Fighting the stigma that surrounds Cannabis, the Canadian Cannabis Industry and everyone who uses Cannabis is no easy task. The best way to fight ignorance in any setting is with actually interesting education; so let's dive in, get hip to Cannabis and look good doing it. 
We can all agree that finding the right tools for the job and the answers to all your questions is way easier when you know who to ask. In today's busy, noisy world- your cannabis shouldn't be giving you the runaround. Cutting down on travel time, vague emails, phone calls and that game of cannabis-charades (where we work together to decipher phrases like: "no, no… uh, it turns on AND there's water in it."), is key to enjoying your sesh. 
Headshops vs. Dispensaries: A Summary
Headshops

Dispensaries (AKA Cannabis Stores)

NO CANNABIS

The OG Counter Culture Supply Stores

Smoking Accessory & Merchandise Specialists 

Limit-Free Expertise to Share

EVERYTHING CANNABIS

New (& Kinda Fancy) Kids on the Block 

Small Selection of Smoking Accessories 

Specific Government Rules & Limits

Visit when you need:

Visit when you need:

Answers to all your burning questions & access to hardcopy cannabis info.

A new piece of cannabis sesh gear as unique as you are. 

Bonus points for supporting local artists & getting a great deal.

Guidance from a Budtender & specific cannabis strain information.

Something new to try! 

Edibles, drinks, smokeables & much, much more.
Headshops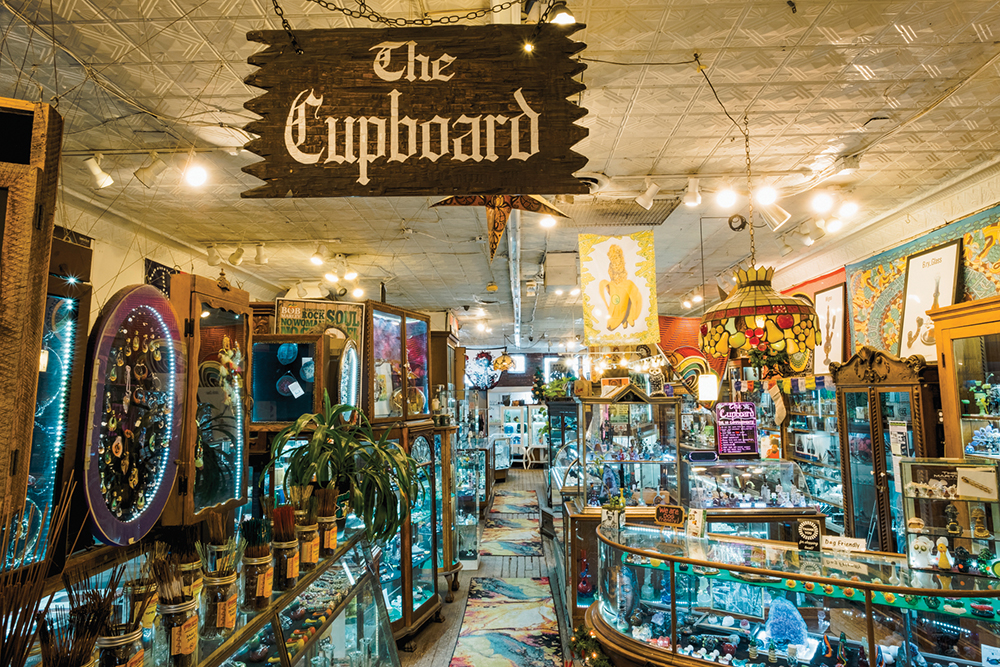 (The Cupboard. Located in Cincinnati, OH.  Est. 1965)
The OG Counter Culture Supply Stores
The oldest surviving Headshop in North America (The Cupboard in Cincinnati, OH) was established in 1965. Since then, the original cannabis-users, staff and owners have had some time to learn a few things about cannabis, and just about every which way you could possibly use it. Time is the best teacher and has awarded the pioneers of the industry the skills, knowledge, experience and perspective to solve any 'herbal' problem they may encounter. As far as we know, there isn't anything that a sage canna-sseur loves more than showing a newbie the ropes or helping someone level up their cannabis experience. Oh and one more thing, Headshops are as unique as the people who own them so they all look a little different inside! 
Smoking Accessory & Merchandise Specialists
Consider Headshops the big-hearted purveyors of the unusual. When choosing what to fill their stores with, you are their focal point. From humble rolling papers, to stylish pipes, bubblers, bongs and discreet vaporizers (like the DaVinci MIQRO or the Yocan Quad), Headshops have got you covered. Because these businesses are not under the strict guidance of the government, they are able to purchase a lush variety of trinkets and do-hickeys from all different suppliers— including local makers and artisans. By combining what you've asked for and what they know you'll love, Headshops are able to accommodate a wide range of different personal styles, uses and price points. 
NO CANNABIS
Somewhat disappointingly, Headshops sell everything you need- except weed. It's also probably not because they don't want to. While this isn't the case for everyone, many Headshops have been left behind regardless of cannabis' new legal status. Despite being well-equipped with practical know-how, deeply-rooted connections to the community and physically compliant locations, some regulatory bodies have shown a preference for new entrants to the industry instead. We don't really know why, but we have a few conspiracy theories. (If you want that article, we'll write it.)
Limit-Free Expertise to Share
Speaking of practical know-how, Headshops aren't bound by any specific legislation limiting the types of information that they can share with their clientele. That's right! You can ask about physical sensations, benefits, preparing, mixing, cooking and all the different ways to use cannabis. Headshops are also able to provide material that talks specifically about the medicinal benefit of the herb we love so much, (books, brochures & things actually written by medical professionals).
Dispensaries AKA Cannabis Stores
(FivePoint Cannabis Store. Located in Bridgeland, Calgary, AB. Est. 2019.)
New (& Kinda Fancy) Kids on the Block 
Dressed so fresh and so clean à la OutKast is the name of the game for a whole host of post-legalization Cannabis Stores. Clean, modern, well-staffed and well-stocked (after a few growing pains) with a candy shop's variety of cannabis in all its forms.  Don't let their good looks fool you, cannabis is for everyone and these hip places are more than happy to meet you where you're at. 
EVERYTHING CANNABIS
Dry herb, concentrates, preloaded vape cartridges, edibles, and even infused drinks— what a dream! At the beginning of legalization only a handful of cannabis products were available, but as the Canadian market has flourished, so too have the offerings of Cannabis Stores. Highly skilled Budtenders have been doing a heck of a lot of learning and are eager to share their new favourites with you!
Limited Selection of Smoking Accessories
If everyone was great at everything, the world would be boring. In order to be total rockstars at providing cannabis clients with a plethora of amazing infused products, Cannabis Stores have slim offerings for other non-cannabis items. At least in Alberta, these stores have also been challenged with only being able to purchase their stock (cannabis & non-cannabis) from a single source— the AGLC. This means that they might have a more difficult time sourcing local products or products not yet approved by the regulatory body in charge. 
Specific Government Rules & Limits
This one is definitely more Alberta-specific as well. Cannabis Stores have really been able to make lemonade out of some sour, sour lemons. The stigma associated with cannabis has prompted Alberta's provincial government to keep a close eye on every minute detail of Cannabis Stores. This watchful eye had the potential to greatly influence the kinds of experiences you could have while you're purchasing your cannabis legally. Government restrictions on merchandise, preventing the spread of information about the benefits of cannabis and having to submit ulta-detailed monthly reports are just a few of the obstacles that these businesses have had to work with. Your local Cannabis Store is clever af, for finding creative ways to lessen the government rules' impact on you.
So, what did we find out? We're better together.
The growth of the Canadian Cannabis Industry is truly unprecedented, and to do something that we've never done before, we're going to have to become people we've never been before. Operating within a rapidly shifting regulatory framework  with a distinctly unique community made up of people just like you is challenging, but we couldn't imagine doing anything else. Cannabis Stores and Headshops fill in each other's gaps to provide you with the best possible cannabis experiences, that's why you need both. It's like having a doctor and a pharmacist, even if you can get by with just one, they're better together.